The 2021 Subaru Love Promise Customer and Community Commitment Award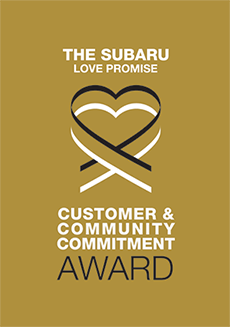 We've been nationally recognized for our dedication to our customers, our community, and the Subaru Love Promise.
We're honored to receive the 2021 Subaru Love Promise Customer and Community Commitment Award. This award nationally recognizes elite Subaru retailers who provide an exceptional customer experience at every interaction with Subaru. These retailers have also demonstrated an outstanding commitment to supporting passions and causes in their local communities in important areas such as the environment, community, health, education, and pets.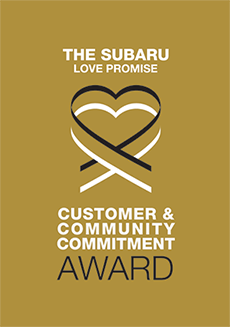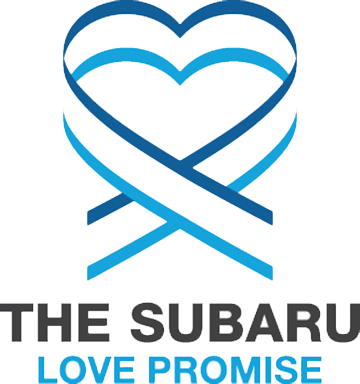 What is the Subaru Love Promise?
Subaru and our retailers believe in making the world a better place and the Subaru Love Promise is our vision of respecting all people. This is our commitment to show love and respect to our customers and to work to make a positive impact in the world.
How is Boardman Subaru dedicated locally to the Love Promise?
Our Love Promise can be seen in various partnerships with local charities and non-profits. We're grateful for the opportunity, not only to be a part of our community, but to serve it as well. We partner with Akron Children's Hospital & The Rich Center for Autism. . We also support our local Salvation Army & Meals on Wheels. With on going effort to support our local education Boardman Subaru does provides vehicles for Youngstown State University's Car Coach Program. Don Nameth General Manager Boardman Subaru boardmansubaru.com
Every Dog Matters, Angels For Animals
Boardman Park, MillCreek Metro Parks, Environmental Collaborative of Ohio
Youngstown State University, Boardman Glenwood Middle School, Jamie's Dance Force, Boardman Drama Guild
Meals on Wheels, Salvation Army, Austintown Softball Association, Youngstown Local Music, Relay for Life
Akron Children's Hospital, Rich Center for Autism, Muscular Distrophy Association, YMCA, The United Way
Love Promise Stories from Boardman Subaru
Subaru and Boardman Subaru believe in making a positive impact on the communities in which we live and work. We uphold that belief through our Love Promise Community Commitment. Every month, we select inspiring stories from customers and partners from around our area who strive to support our collective commitment and feature them here
Earth Day 2021 - Candice W
It was amazing and a privilege to had tag teamed with Boardman Subaru Team for Earth Day 2021! They were excited and had no hesitation jumping to advertise and provide materials for our cleanup at Gaston Park in New Castle! They were friendly and warm hearted to someone brand new to their facility. It was awesome to see a whole team wanting to be part of a community, regardless being across the state line. It's teams like this that are great examples of Subaru's Love Promise. -Subaru Ambassador, Candice Walter
---
Every Dog Matters Adoption Event - Amanda H
This is our 3rd year doing the adoption event and every year it gets better and better! The entire staff at Boardman Subaru is so welcoming and supportive of our rescue, they are the ones that purchase all of our baked goods. They never hesitate to take photos of our dogs to share on social media and invite their friends and family to meet them as well. With everything going on with covid, it has been a difficult year and although things had to be a little different this year from past years, they did not hesitate to invite us in and make this the best event we have ever had! From this event alone we were able to adopt out 7 dogs! That is 7 dogs that get to spend the holidays with their new families! What an amazing staff, a wonderful event and a show of community support! Looking forward to next year!
---
Akron Children's Hospital Mahoning Valley - Kelsey M
"First let me say what a pleasure it is working with the Boardman Subaru Team! They are always excited to have us come in with our car seat safety materials, and they make sure that we are set up in the best possible place to reach as many people as possible during their annual Share the Love campaign. It's always a great experience working with Mr. Fellman and his dedicated team at Boardman Subaru, and he is always very generous in helping the children that have to utilize all the great services that Akron Children's Hospital Mahoning Valley provides. The Boardman Subaru Team is very engaged with car seat education that we provide, and they always want to know as much as possible, so that they can properly advise families on their options for keeping their children safe when riding in a vehicle. My time with them these last couple of years has been a very positive experience as you can see that they truly just want to make sure they are empowering their customers to all always be as safe as possible when traveling." - WIlliam McMohan, Injury Prevention Coalition Coordinator for Akron Children's Hospital Mahoning Valley.
---
Children's Hospital Toy Drive - Scott C
Boardman Subaru held a Toy Drive during our Share The Love Event. Customers were offered service discounts for bringing in a new toy to be donated to Akron Children's Hospital patients. Th event was entirely thought of and run by Boardman Subaru Service Manager, Scott Ceratti. The toys were delivered in time for Christmas!
---
Helping Teachers As Well As Students - Scott L
We have benefited from Subaru's generosity for several years now. We have received many books through the Subaru Loves Learning program and plants, tools and supplies to create a Certified Natural Habitat through the Subaru Loves the Earth program. It has been great being able to share all of these things with our school community. It has also been a benefit to teachers as we have increased our own knowledge via many of the books we have received. We have been able to enhance our instruction as well as the education of our students thanks to Subaru.
---
Akron Children's Hospital - Boardman Delivery - Jaclyn M
Employees from Boardman Subaru joined a volunteer from The Leukemia & Lymphoma Society to deliver blankets and arts & craft kits to patients at Akron Children's Hospital - Boardman as part of the Subaru Loves To Care program. These comforting gifts were accompanied by personalized messages of hope written by the customers and staff of Boardman Subaru. This incredible act of generosity was warmly received by the Akron Children's Hospital staff who were thrilled to distribute these gifts to their patients. Many thanks to everyone at Boardman Subaru and Akron Children's Hospital at Boardman, not only for a memorable day, but for supporting LLS's mission to cure blood cancers and improve the quality of life of patients and their families. We are so grateful for this national partnership and for the local staff at Boardman Subaru!
---
Every Dog Matters Rescue - Amanda H
I reached out to Joe Bada a few moths ago, about an idea I had for an adoption event for the rescue I work with. Not even 2 days later I received a phone call from John Jones the business manager and we came up with a plan!! October being Subaru Loves Pets month was the perfect time do it! This past Saturday we had our event and WOW!! All of the employees offered help setting up, came over and bought t-shirts, baked goods, hot dogs and popcorn. Several of the employees were taking photos with our dogs to put on their social media to boost the exposure for them. The president of the rescue commented to me that she had never felt so welcomed at any event she has ever set up at. I have always adored the Boardman Subaru crew but this time they really came through!! As of right now we have 2 dogs that may be going to their forever homes because of this event!!! Thank you to Rob and the whole crew!! ¿¿¿
---
More than blankets and craft kits - Kerri P
A cancer diagnosis impacts more than just the patient. Family, colleagues, friends - everyone connected to the patient is a part of the journey. The staff of Boardman Subaru made sure everyone they met during their visit to Akron Children's Hospital - Boardman felt the Subaru love. Subaru Boardman Owner Rob Fellman noticed two children with their grandmother and learned that they were waiting for their brother to be done with his appointment. Taking over two craft kits, Rob and LLS staff member Emily Koudelka learned the fine art of making clay worms and even a few new dance moves! Not only did it make their day it made the day for those visiting as well. Thank you Boardman Subaru for living out your mission to make the world a better place by joining with LLS to further our mission to create a world without cancer.
---
Leukemia & Lymphoma Society Blanket Delivery - Rebecca H
The staff members of Boardman Subaru were so caring as they delivered warm blankets, children's craft kits and care cards to cancer patients and their families at Akron Children's Hospital, Mahoning Valley. Boardman Subaru employees interacted with patients, family members, doctors, nurses and other hospital staff members with care and concern and were joined by staff members of the local Leukemia & Lymphoma Society. We are so grateful for our national partnership with Subaru and for the local staff at Boardman Subaru.
---
Subaru and NWF Love the Earth! - Scott L
We are so fortunate to have such nice supplies from the NWF and our local Boardman Subaru. We have started turning our courtyard from just grass to a native green space on our own, but with limited funds we really could only get the seeds (you can see it in the background of the picture) and had to use money raised from recycling aluminum cans for the rest. Now we have a new addition to our green space and such nice materials we never thought we would get (bird feeders/houses, bird batch, toad abode, etc..). Thank you so much and we are glad we can contribute to natural habitats to support our local wildlife.
---